​
Rachel Skelly:
With God all things are possible! Matthew 19:26
Indeed, With God ALL things ARE possible!
I completed my program at WATW December 5th, 2017. Throughout the program God was refining me. I didn't know what he was doing but because I learned that Word of God was alive and true, I chose to believe that He was working it all out for my good and His Glory!
And He did! I walked into those doors broken and filthy. I was addicted to meth, and codependent to men. I was insecure and had NO knowledge of how much God REALLY adored me! B
ut through WATW God rejuvenate and revived me!
Now a year later I have custody back of my daughter and raising her up in the ways of Our Lord. She is my pride and joy and without God I would never had to chance to give her new life. I'm living in Arizona interning for women's Teen Challenge. It is a holy honor to speak God's life into other broken woman. I wake up each day knowing that I am giving hope, love, and encouragement like I received in my program.
Today I am 24 months sober and living my life for Jesus!
​
---
Jodi Moses:
Luke 1:46-47) "My soul glorifies the Lord and my spirit rejoices in God my Savior" WATW was a pivotal point in my life. Through study of scripture and the individualized contract work I completed I was led into a deeper understanding of who God is and who He says I am. It was a safe place for me to see the error in my ways and begin to work on myself. God brought me to a place where I had to come face to face with who I was and what I had done. Then something incredible happened. He began to heal my deepest wounds from a life of shame and guilt. I was able to mourn the death of my son and experience God as my comforter. WATW alongside of God walked me step by step in the sanctification process. I am now whole and healed body, mind, and spirit. They taught me how to love again and taught me what Christian community should be. I wouldn't change anything about my experience in the program. They (the staff) taught me what real family and love is. I am forever grateful to the program and the staff for all the love and resources they pored into me. Today my life is a lot different than it was a year ago. I can truly say it is well with my soul. I am happy for the first time in my life. I have my sobriety and peace of mind have never experienced before. January 3rd I go to court to obtain custody of my youngest son! I am a full time mom with a loving supportive family. God made a way for me to have a home I can call my own. He also made a way for me to get my license an a car! I am currently free from all court systems and probation! PTL! God is still moving in my life. He's slowly bringing all parts of my life together. He's opening doors for jail ministry and many job prospects. My son and I have been given a second chance at life! God and WATW are the two main resources that made all this possible! I am proud to be a graduate of this program and I say all glory to God! Eph 1:5-8; Isaiah 63:9
Powered by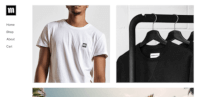 Create your own unique website with customizable templates.